MyoTonic & CryoTonic Media
Assorted cell culture and cryostorage media products suggested for use with skMDCTM human skeletal muscle cells.
See Documents tab below for pricing information.
We know that consistent and reproducible cell cultures are critical to experimental success. Our MyoTonic and CryoTonic products are specially formulated for use with skMDC muscle cells to make cell growth, differentiation, and cryopreservation as reliable as possible in your lab.
Benefits
Consistent quality.

Cook MyoSite's media products are tested rigorously to ensure the highest levels of quality so you can spend less time worrying about consistency and more time doing research.

Expert support.

Our muscle cell experts provide knowledgeable customer support when skMDC is grown with the Cook MyoSite, Inc. culture media according to the related protocols. This technical expertise will ensure that you are achieving the best performance possible from the skMDC product.
Flexible options. Our MyoTonic Family of Culture Media has options for standard, insulin-free, and serum-free varieties to suit your particular needs.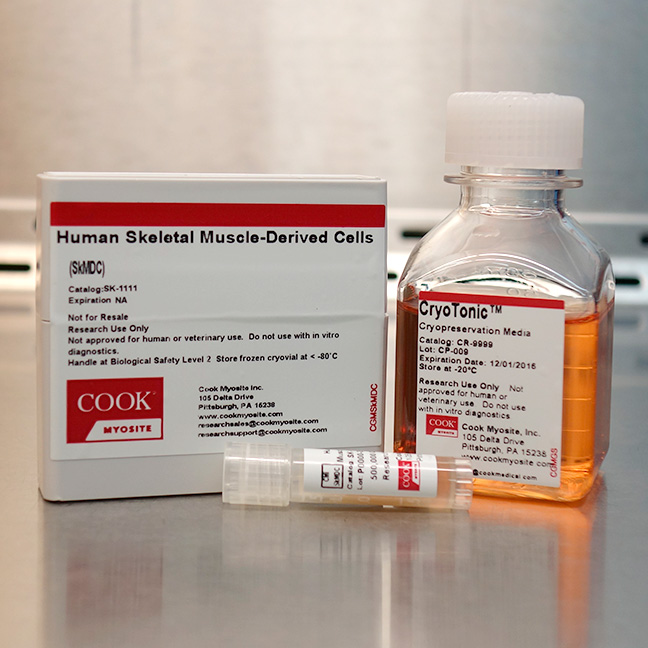 skMDCTM Human Skeletal Muscle Cells
Our skMDC cells are the highest quality, most characterized primary muscle cells on the market. We offer a range of single-donor healthy and diseased cell samples to meet your specific research needs.
---
Product Use Guidelines
Cook MyoSite products are distributed for research use only. The use of these products is not approved for human or veterinary use. Do not use Cook MyoSite products with in vitro diagnostic assays.
Products contain human source material. Treat as potentially infectious. Handle at Biological Safety Level 2 to minimize exposure to potentially infectious agents. Each donor tissue, prior to cell isolation, is tested for the presence of HIV, Hepatitis B, and Hepatitis C. Testing cannot offer complete assurance that tested viruses are absent.
Buyer has no rights to transfer products, components or materials made using these products or use these products for commercial purposes. The term "commercial purposes" includes, but is not limited to, any of the following: use of products or their components in manufacturing; use of the product or their data components to provide a service, information, or data; intentional reproduction of cell products or their components indefinitely via immortalization; intentional use of products or their data components to intentionally identify individuals associated with applicable research samples; or use of products or their components for therapeutic or diagnostic purposes or resale of products or their components.
For more information please see our Terms and Conditions of Sale and Delivery or contact us.
---
Shipping Information
Cook MyoSite ships products to locations around the world, including but not limited to Canada, Europe, the United Kingdom, China, Japan, South Korea, and Australia. Find more details about shipping on the FAQ tab or contact us.